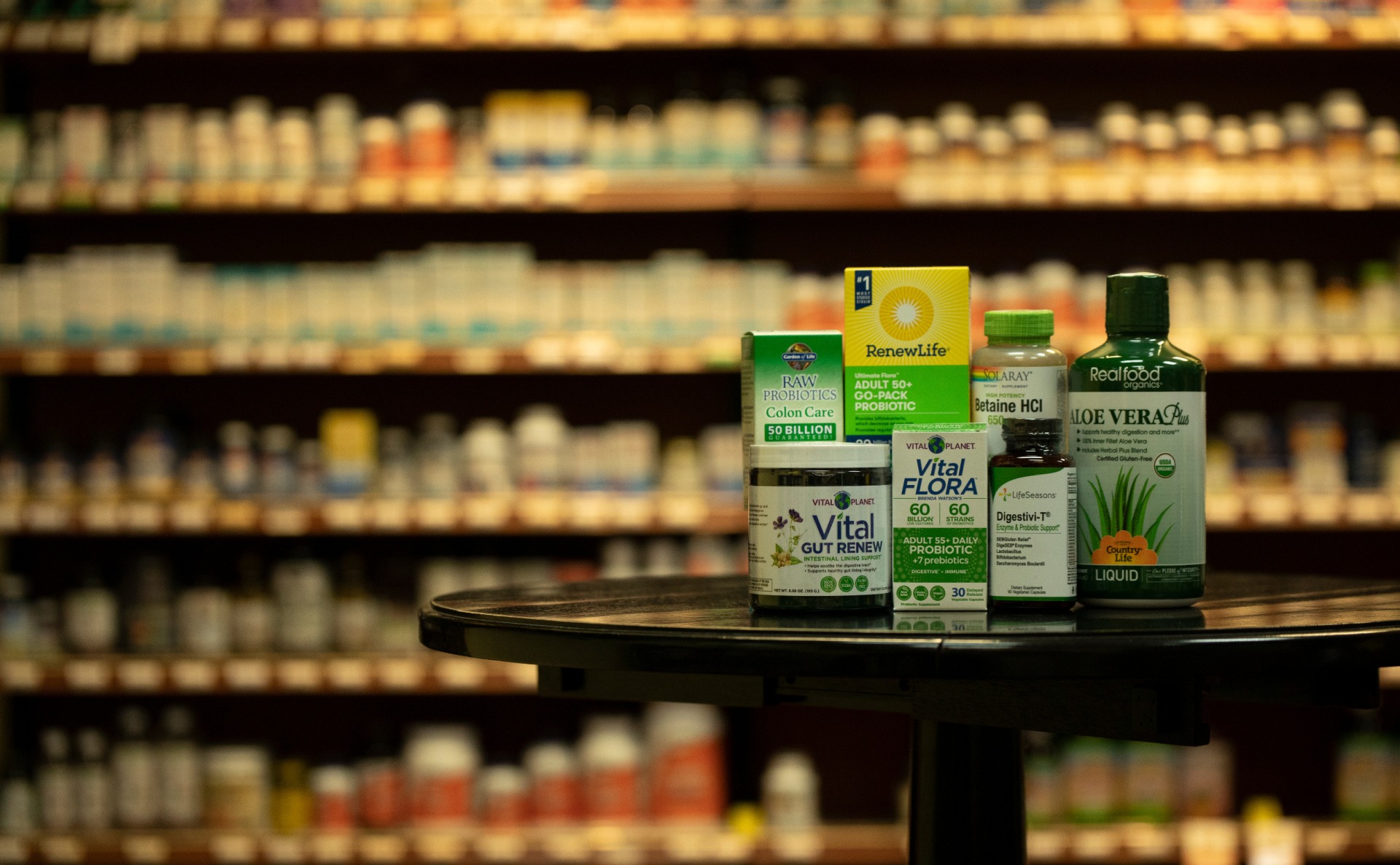 Gesundheit! Nutrition Center
A Unique, Locally-Owned Health Supplement Store

The Gesundheit! mission is to provide you with high-quality dietary supplements to complement and improve your quality of life.
Visit the Gesundheit! Nutrition Center on North 19th Avenue in Bozeman for the highest quality vitamin supplements, service, education, and networking opportunities.
Opening hours: Mon-Sat 9am - 6pm
WELCOME, AND THANK YOU!
HIGH-QUALITY SUPPLEMENTS - WELLNESS EDUCATION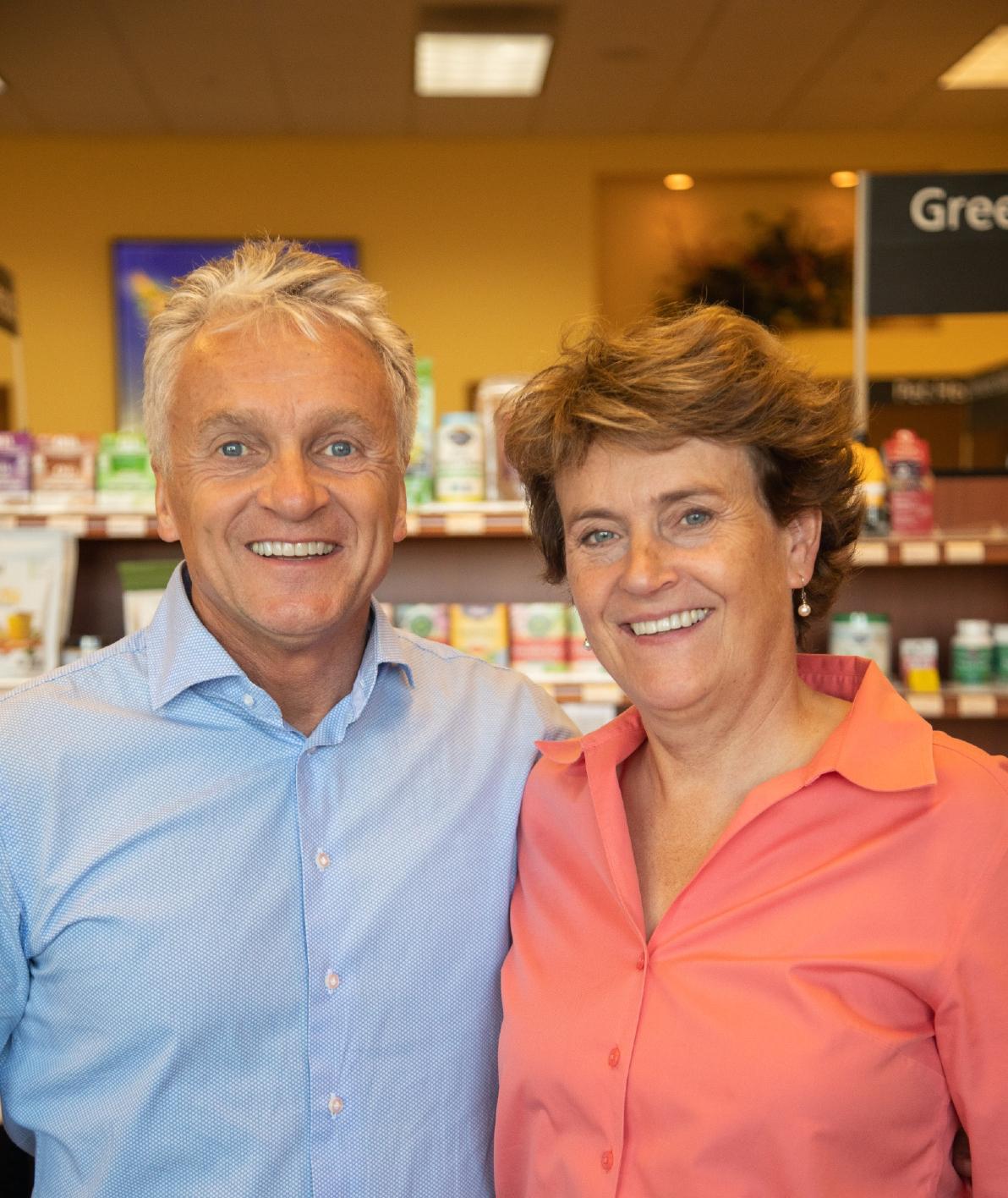 The Gesundheit! Nutrition Center opened its doors in Bozeman in April of 2007.
Since then we've been two things - a retail store for high quality dietary supplements and a welcoming place where you can find information about your health concerns.
However, Gesundheit! began much earlier than 2007. Owner and founder Jacobus Hollewijn started his professional journey in natural health in January of 1994. Many of our crew-members have been on natural health journeys for decades as well. So, as a customer, you benefit from our decades of collective health and wellness experience.
Let the Gesundheit! team help you choose the best health product from our 140 unique vendors. We want you to feel your best. So, if you have the time, we'll make the time!
Shop Online
OUR PHILOSOPHY
KEEPING MILLENNIA OF HEALTH KNOWLEDGE & PRACTICE ALIVE
The field of medicine and healing has a long and very rich history.
Medical experts today actually stand on the shoulders of all creative, daring, and caring men and women who have improved and maintained the health of themselves, their families, and their communities with extensive research (which included a lot of trial and error in the early years).
That knowledge has been passed down through generations, over continents, in written texts, and into the present day. We should preserve and use that knowledge to benefit everyone.
At Gesundheit!, you'll find products based in Traditional Chinese Medicine, Ayurveda, herbal traditions from Ancient Egypt, Greece, the British Isles, and South America. You'll also find information from what we currently refer to as western/allopathic medicine
The picture on the right is also displayed inside the store. We call it the Caduceus of Integrative Medicine—it was created by a wonderful local artist. Our Caduceus blends a worldwide symbol of medicine with natural elements. The Caduceus of Integrative Medicine represents the Gesundheit belief that a blend of ancient medicine and more recent medical discoveries is greater than the sum of its parts.
Therefore, one half shows modern medicine: the snake wrapped around the post, ending in the wing.
The other half represents natural medicine: a vine of edible herbs, plants, fruits, and flowers wrapped around the same post, ending in a wing of all natural remedies.
I hope you enjoy it up close when you visit us.
Shop Online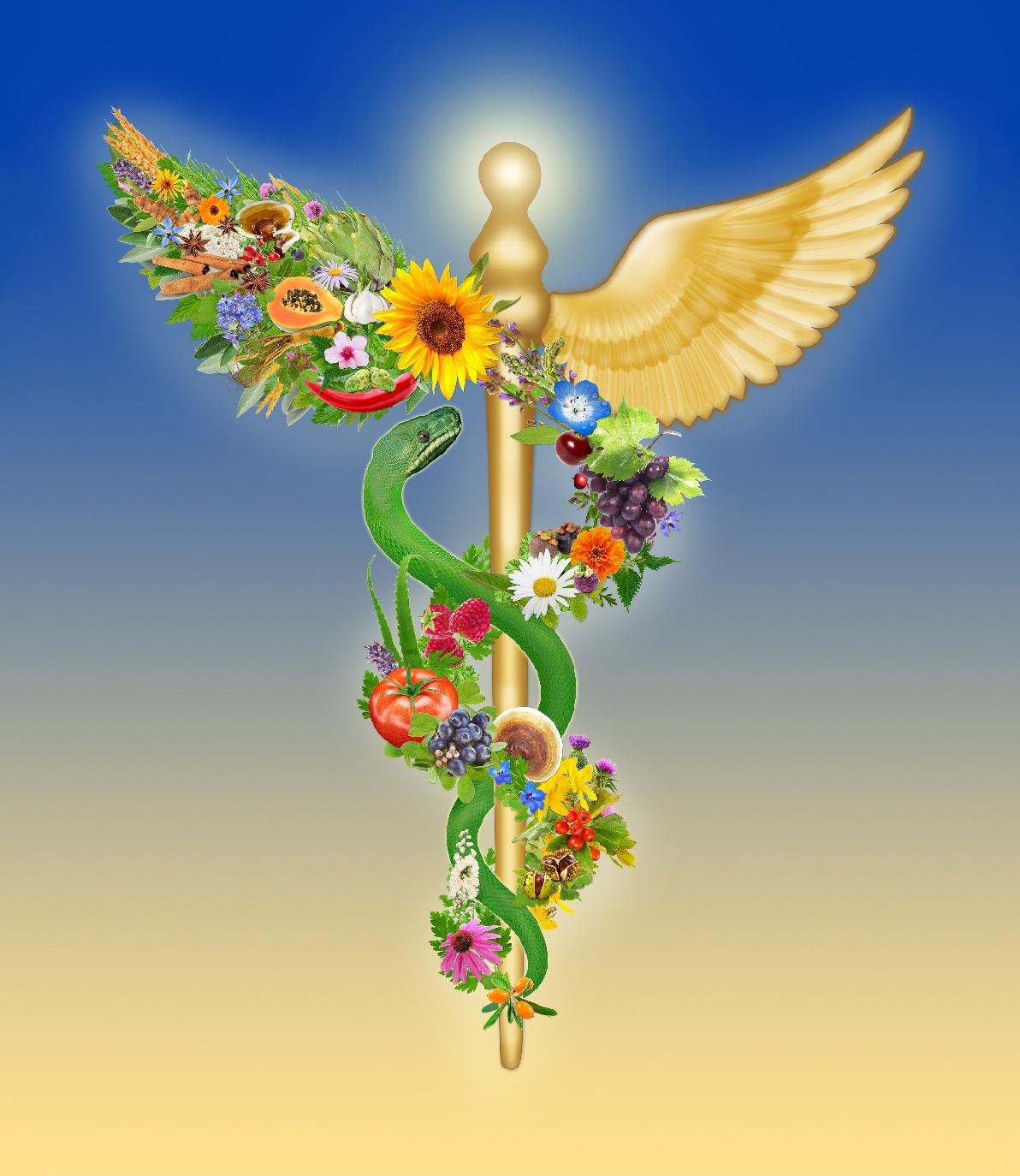 Store News
STAY UP-TO-DATE WITH US
Read about new products, News-You-Can-Use, as well as store events & updates we think you may find interesting.
FAQs
FREQUENTLY ASKED QUESTIONS
What are your opening hours?
Monday - Saturday, from 9AM - 6PM
How many products do you carry?
Our inventory contains about 5,200 unique products, ranging from pills to powders, from chewables to tinctures and liquids. You will recognize your favorite brands. However, we are very flexible as far as expanding our supplement choices and vendors are concerned. Let us know if you would like something we don't carry yet; we will get it. If we can not, please allow us to show you an alternative.
Which brands do you carry?
We order from 140 different vendors, many well-known to you, others more obscure and specialized. We do support local and Made in Montana whenever we can.
Because we are a local mom-and-pop store, we are free to choose our own inventory.
You may want to check our online store for more details.
What is your focus, product-wise?
We focus on all different aspects of health, ranging from single vitamins to multi-vitamins, single minerals to multi-minerals, nutritional oils, combination formulas for specific ailments, essential oils, and skin nourishment, herbs, medicinal mushrooms, protein powders, athletic support, enzymes, pre-/probiotics, hormone balancing, and products for inflammation response. (We even carry some supplements for your pet.)
What are dietary supplements?
A dietary supplement is a product intended to be added to an individual's diet by taking a capsule, pill, powder, liquid or tablet. Supplements provide nutrients that are either extracted from natural sources or synthetically created to benefit an individual. Supplements can be vitamins, minerals, herbs, botanicals, amino acids, enzymes and many more substances.
Are you wondering how to read supplement labels?
When it comes to dietary supplements it is important to know how to read the label. Start by turning the bottle around and look for the clearly outlined (often white) rectangle box which reads with big bold letters 'SUPPLEMENT FACTS'.
Below this, you will see a 'Serving Size' panel, which will state what amount of the product is considered one serving. It will also list the total servings in the container. Outside of the 'Serving Size' and 'Supplement Facts' boxes there is usually an 'Other Ingredients' list that tells us what fillers, flow agents, flavoring agents, etc. might be present that are helpful to understand.
Additionally, the bottle will include a 'Directions' or 'Suggested Use' panel. This is the manufacturer's recommendation on how to use the supplement for optimal results.
If you want a further breakdown of supplement labels, check out our article "How to Read a Supplement Label" or reach out to our knowledgable staff with any questions you may have.
Do you carry CBD products?
Yes, we carry CBD products, from gummies to lotion to toothpaste.
Do you offer curbside pick-up?
Absolutely!
If there is any reason why you do not feel comfortable coming inside the store, we'll be happy to come outside and hand you your order.
There are several ways you can do this:
Call us (406-585-4668) and tell us what you would like us to gather for you. Then pay with a credit card over the phone, and give us an approximate idea when you arrive. Or, you can call us quickly when you are here. We then come outside and meet you at your vehicle.
Visit our Web Store and browse for your product(s). Put them in your shopping cart and pay. We will then get a notice on our cash register; we'll fill the order, and then can either ship it to your address, or you can pick it up curbside.
Do you ship orders?
Yes we do.
You can order by phone (406-585-4668), or through our web store. We gladly ship it to you.
I just moved to the area and I'm interested in visiting your store. Do you perhaps offer some type of Loyalty Program for your customers?
Yes we do. On May 1, 2021 we started a (free) Customer Appreciation Program. If you decide to sign-up, you'll build Loyalty Points with every purchase you make. Once these Loyalty Points reach $5.00 and up, they can be redeemed with your next purchase.
Do you sell groceries, produce, bulk and/or bulk herbs?
No we do not.
Realizing how many quality grocery stores we have in this area, we decided to focus our attention on nutritional supplements, some therapeutic type skin care products, and education. We do have some juices, water, protein drinks, and snacks, but our selection is limited.
Do you ever have special sales?
Sales-Sales-Sales!
Everybody likes a good deal on a quality product. We do get regular discounts from our vendors, which we pass on to you. If discounts are your thing you will find many Sales-Tags through the store. We also do two store-wide Sale Weekends every year: our
Anniversary Sale
sometime in the middle of June, and our
Christmas Sale
sometime the middle of December. On those Fridays and Saturdays, every item in the store will be 20%-off, including Special Orders and items already on sale.
Do you have any health practitioners on your staff?
We are not doctors, and don't claim to play one in our store. However, our crew offers many decades (combined) of knowledge and understanding about health, health concerns, diet, exercising, the supplement industry, and the importance of a good balance between our body, mind, and spirit. Please don't hesitate to ask questions. We also have a semi-private sitting area where you can sit, read our reference books, and ask more personal questions.
We want to support your doctor's recommendation however we can.
NICE TO MEET YOU!
WE are all unique in our own way, and so are YOU.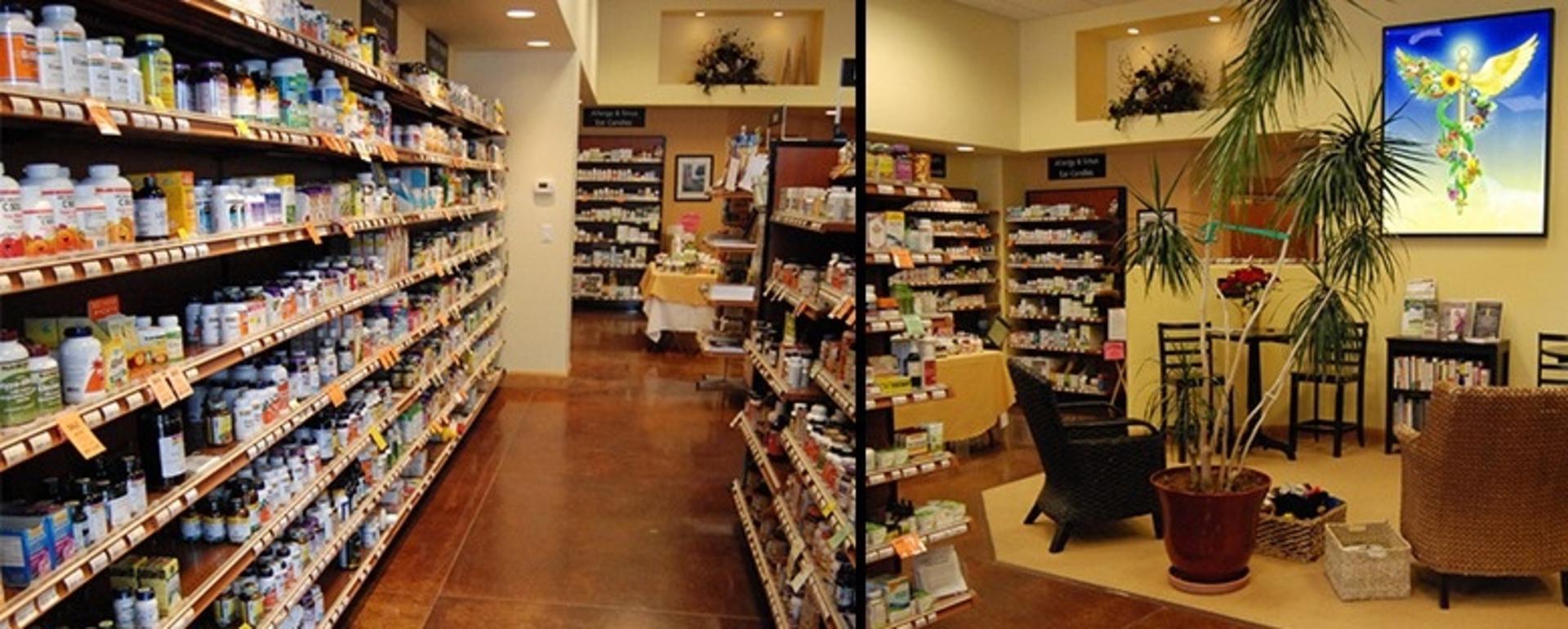 ABOUT THE CREW
Here are the people who make your experience at Gesundheit! as pleasant as possible.
Contact Gesundheit
HOW MAY WE HELP YOU?
Please supply us with some information so we can be in touch.


*Please note that we cannot give out medical advice or suggestions.